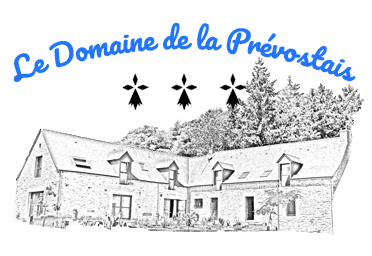 The Domaine de la Prévostais
      In the heart of authentic Brittany, in Pleucadeuc, village of the twins, a few kilometers from Rochefort en Terre, favorite village of the French in 2016, we invite you to stay in spacious guest rooms with swimming pool in a place full of charm and history.
      You will have the possibility to go for peaceful walks, on foot, by bike or on horseback on the paths laid out for this purpose near your guest house. It will also be the occasion to discover the magnificent coast of Morbihan like the Gulf of Morbihan, the wild coast of Quiberon,... and the historical wealth like the megaliths, the village of Malestroit, the museum of the Resistance in Saint-Marcel.
      And why not simply enjoy our 17th century farmhouse, situated in a green setting. If you listen carefully, you will hear the water flowing from the nearby river. If you're lucky, you might even spot the deer that come down to drink from the river and the green woodpecker with its distinctive call.
      At the end of the Second World War, on July 26, 1947, General de Gaulle, who slept one night at the manor house, near our house, visited the farmers of the Prévostais farm.
      We also offer a room fitted out in the old cowshed for your private receptions (baptism, communion, birthday, cousinade, ...) and professional receptions (meeting, seminar, training, ...).
You will be enchanted by the calm of the place and the exceptional country setting.
A spacious room for individuals, professionals or associations.